Location of Aomori Prefecture
 Aomori Prefecture is located in the northernmost part of Honshu between 40 ° 12 '~ 41 ° 33'N and 139 ° 30'~ 141 ° 41'E. It is nearly at the same latitude as New York, Beijing, Rome and Madrid.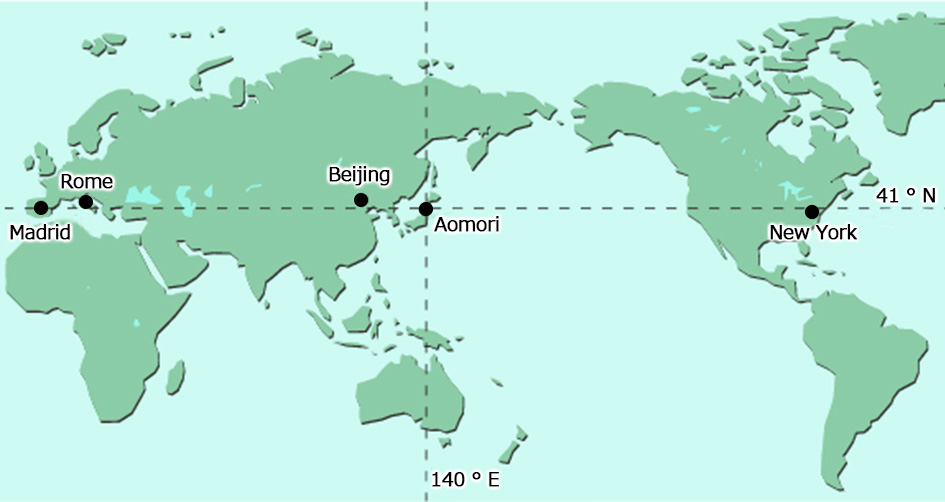 Aomori Climate
 Aomori Prefecture is surrounded by the sea on three sides, and the Ou Mountains located in the center divide the prefecture into two.
 In winter, the cold humid air hits the Ou Mountains, causing snow to fall in the Tsugaru region, while the Pacific Ocean side tends to be sunny and dry because Ou Mountains serve as a barrier.
 In summer, cold and humid days are common on the Pacific Ocean side because of Yamase, the cold and humid easterly wind.
 Since the change of seasons is clear, you can enjoy the beauty of nature in different seasons.
Temperature in Aomori City (2015)

Average Daily Temperature (℃)


11.5

Highest Temperature (℃)

36.5

Lowest Temperature (℃)


-7.3
Aomori Prefecture Population and Area
 Aomori Prefecture has 10 cities, 22 towns and 8 villages (40 in total). As of October 1, 2015, the population of Aomori Prefecture is 1,308,265 (national census confirmed value), ranking 31st in Japan. The area of Aomori Prefecture is the 8th largest in Japan, with 9,645.64㎢ as of October 1, 2019.